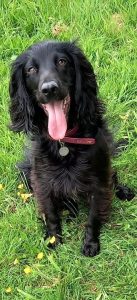 Brian has been working with us for the past six months with our Sprocker spaniel Grace. Our first session was an extremely interesting insight into dog behaviour and we knew then from his manner and ethos that we had come to the right person.
We always look forward to Grace's training sessions and Brian's enthusiasm, guidance and encouragement have helped us come to better understand and learn ways to keep our energetic pup focused and her energy directed in a positive way during walks, training and at home.
We cannot thank Brian enough for his help in assisting us create a trusting and great relationship with Grace and would recommend him in an instant – thankyou Brian!