Growth plates and bones: Development and injury.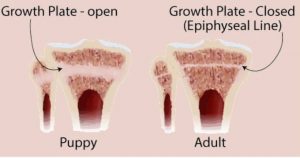 Growth plates are soft areas that sit at the ends of the long bones in puppies and young dogs. They contain rapidly dividing cells that allow bones to grow longer until the end of puberty. Growth plates gradually thin as the hormonal changes approaching puberty signal the growth plates to close. In puppies, this closure normally completes between 18 to 24 months old.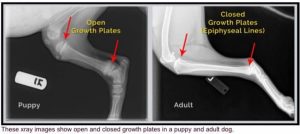 Until the growth plates close, they're soft and vulnerable to injury. After sexual maturity, the growth plates calcify and the rapid cell division ends. The growth plates become a stable, inactive part of the bone, now known as an epiphyseal line.
Dogs bones are held together with muscles, tendons and ligaments (soft tissue). In an adult dog, if a joint experiences a stress such as bending the wrong way or rotating too much, the bones will hold firm and soft tissue will be pulled, resulting in a sprain or tear. In a puppy, however, his soft tissues are stronger than his growth plates, so instead of a simple sprain, his growth plate is liable to be injured – the puppy's own soft tissue can pull apart his growth plate.
Why this matters so much, is that unlike a sprain, injuries to the growth plate may not heal properly or not heal in time for the puppy to grow up straight and strong. Injury to a growth plate can result in a misshapen or shortened limb, which creates an incorrect angle to a joint resulting in yet more future injuries when he/she grows up, including dysplasia